Chapter Directors John McMurray and Eric Wilson of Keiser University recently announced the College of Golf would be offering two active scholarships to chapter students beginning this fall. Students may earn the two-year associate or four-year bachelor's degree. This is an incredible opportunity for our students!
Our Chapter began offering four-year renewable college scholarships to our active students in 2014 when Trustee Jon Orszag (pictured above) designated a portion of his annual contribution to establish our first scholarshipfund. For the 2019-2020 school year we award $25,000 in college scholarships and have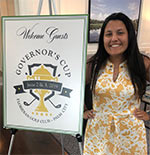 awarded over $100,000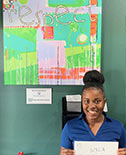 since inception with additional assistance from Trustees Bob Simses and Morell Studios and Chapter Director Suzanne Klein. Current scholarship winners include Alexandra Dowd, Jarue Johnson, Savannah Mansueti (pictured left) Nyla Simms (pictured right) and Emily Valentine.
Next, the Palm Beach County Golf Association, partnered with our chapter to offer a scholarship program they funded, which is administrated by Take Stock in Children, a local organization, that offers four years of high school mentoring in addition to the scholarship.
Then a partnership was developed with the Western Golf Association and their Evans Scholars program. Evans Scholars earn a four-year full tuition and room and board scholarship by caddying. Our Chapter currently has four students caddying at Seminole Golf Club and Old Marsh with plans to apply for the Evans during their senior years. Additionally, The Bear's Club was the first local club to offer the Evans Scholars program to deserving high school students.
Lastly, The First Tee home office has recently announced a new national College Scholarship Program. Scholarships are up to $5,000 per year, renewable for up to four years of college admission. The program also provides professional development workshops, access to internships and full-time employment placement post-graduation.