The David A. Burke Foundation was established in 2018 to continue the philanthropic legacy that "Burkie" led throughout his lifetime. David was an icon in the hospitality industry in South Florida, and the contributions that he made to his alma mater, community, and the lives of many will be continued through this foundation.
"I really miss our friendship, his unique humor, the grinding competition on the golf course, and our many discussions about the college and football seasons," said Chapter Executive Director Carl Mistretta. "We became fast friends and Burkie absolutely loved everything about The First Tee."
David served as the Executive Vice President and Chief Sales and Marketing Officer for The Breakers Palm Beach for 27 years. David served on many advisory roles, including the Vice Chairman of the Palm Beach County Tourist Development Council, Ambassador of The Honda Classic, President of Florida Restaurant Lodging Association, Executive Committee member of the Boca Raton Bowl and on the executive board for Discover the Palm Beaches.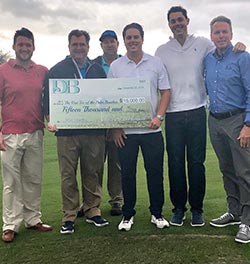 He will forever be cherished for his contributions and generosity to the South Florida Community. His larger than life personality is carried on by his loving wife, Amy and two boys, Ryan and Matthew.
David Burke Foundation made a $15,000 donation to assist with our construction of two new putting greens at Dyer Park. Pictured right with the big check, left to right: Family friend Colman Gogan, Carl Mistretta, Chapter Superintendent Ryan Kelly, Ryan Burke, Matthew Burke and Chapter Development Director Jack Barrett. Notice the gents are standing on the new putting green while the turf is growing in.