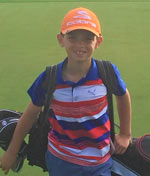 Mason Sarkin – Participant of the Year
Mason is 12 years old. He has been with Coach Bo and First Tee for 6 years. He attends Hidden Oaks Middle School in Palm City where he is an Honor Roll student. He loves football, basketball and especially golf. His favorite part of golf is putting and getting to walk the course. "My favorite thing about First Tee are the coaches and the new friends I have made," said Mason. "If I could play a round of golf with anyone, it would be Rickie Fowler. He is my favorite professional."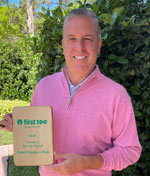 Chris Connelly – Coach of the Year
Chris was the lead coach for chapter programs at Riverbend Country Club and The Champions Club during a very challenging year. Chris not only coached but also helped mentor newer coaches along the way. Chris has been a PGA professional for over 10 years and enjoys giving back to a game that has given him so much. He also played in our 100-Hole Challenge fundraiser and raised $2,500 for our programs.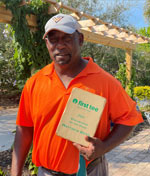 Matthew Boyd – Volunteer of the Year
Matthew is a retired Police Chief of the City of Miami Gardens. While in Miami he was introduced to First Tee and spent several years volunteering for their chapter. When he retired to Port Saint Lucie, he became a volunteer with First Tee – Treasure Coast. In 2020, he assisted Coach Willie Scott in starting up a very successful First Tee program at Fairwinds Golf Club in Fort Pierce. "The success of my program is due to the help of great volunteers like Matthew," said Coach Willie.